Main Index Page
About Your Host
Send Me E-Mail
Browse the Archives
Read My Work


Colby Cosh is a writer and editor who lives in, and occasionally even works in, Edmonton, Alberta. He has been called "the best writer in the blogosphere", "Canada's most talented young non-fiction writer", and "one of those rare writers whose prose can bring to life the hallowed memory of H.L. Mencken." This last one is a little more likely to bring to life the angry, vengeful zombie of H.L. Mencken, but kind words are always appreciated.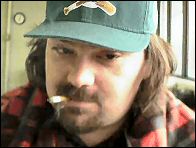 In November 2009, Colby was named an assistant editor of Maclean's, Canada's venerable general-interest newsmagazine. The appointment coincided approximately with the 30th anniversary of his first byline (a prize-winning schoolboy piece for what was then called the Sturgeon Gazette). His real writing career—give or take a few scattered appearances in the University of Alberta student newspaper The Gateway—began in 1992, with a stint as a researcher for the Alberta in the 20th Century series of history books. He went on to oversee the assigning and editing of Volume 8 of the history series, "The War That United The Province 1939-1945", and wrote some of it, including a long chapter on Bomber Command. He has also written chapters for the series about the grain-storage crisis of the 1950's (Vol. 9) and the postwar history of Canada's Indians (Vol. 10).
As a senior editor of the influential Alberta Report (1997-2003), he was an early practitioner of weblogging at his site ColbyCosh.com, blazing a trail for Canadian journalists. He later became a frequent contributor to the National Post newspaper and was a member of its editorial board from 2007-09. During his freelance years, he was also the sports columnist of the short-lived Western Standard magazine; made appearances in Canadian dailies such as the Calgary Herald, the Ottawa Citizen, and the Montreal Gazette; wrote for The American Spectator, the Los Angeles Times, and the The Comics Journal; occasionally appeared as a panelist and guest on the radio, including the BBC and at least a dozen CBC affiliates; gave live lectures on new media and other topics; and inflicted his face, always reluctantly, on viewers of CTS-TV's Michael Coren Show.
Colby was born in Edmonton in 1971 and grew up in the small town of Bon Accord, about twenty minutes' drive north of the city. He is a 1993 arts graduate (with distinction) of the University of Alberta and did post-graduate work in European intellectual history with the legendary libertarian scholar Ronald Hamowy. Today he shares his Edmonton home with two cats, Nigel and Eleanor.