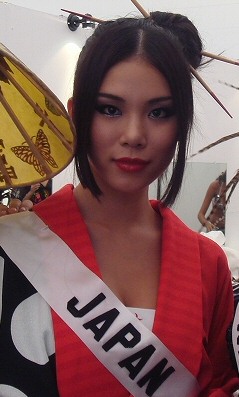 ...and who better to begin with than the life-alteringly hot 2007 Miss Universe, Riyo Mori, who attended Centennial Secondary School in Belleville, Ont.? Research by Japundit's Marie Mockett has uncovered the Svengali behind the Miss Universe Japan organization—a French consultant who decided that improving Japan's track record in beauty pageants required only the simple expedient of totally reversing modern Japanese standards of femininity.
[Ines] Ligron says Japanese girls are long-legged and slim with beautiful skin and can be very much like a chameleon—their look can change dramatically depending on the make-up and color of their hair. "The quality they need to acquire most of all is self-confidence concerning both their physical beauty and their mind. Articulating their own thoughts, opinions and beliefs is difficult for young women anywhere. But Japanese girls have to stop trying to be kawaii, and be more sensual," she suggests.
I don't really know if that was the secret to victory, of course, but I've been through Belleville and I can tell you that that old proverb about how "there must be something in the water" definitely doesn't apply.
[TECH NOTE: No, MT's image-uploading system doesn't work--the file I uploaded definitely didn't end up where MT promised me it would. Good old-fashioned FTP and HTML anchors, on the other hand, seem to do just fine. Once again Notepad saves the day.]