Main Index Page
About Your Host
Send Me E-Mail
Browse the Archives

ARCHIVES for April 2006
---
Screw the Norris Trophy--we want the Hart
In the first of the five games that the Oilers and Red Wings have played so far, Chris Pronger played 38½ minutes and scored a go-ahead goal. It's the only time in the series he hasn't been named one of the three stars of the game: he was the first star Sunday and Tuesday, second star in the Oilers loss Thursday, and first star today. In the five games he has 7 points (2g, 5a), has averaged 36 minutes of ice time a night, has blocked 16 shots, and has served zero penalty minutes. Those who predicted that the Red Wings would successfully force Pronger to blow his cool in the playoffs can suck on that last goose-egg alllll dayyyyy tomorrow.
The funny thing is, in today's Oiler victory Pronger made a few mistakes, and even got posterized on the first Detroit goal when a bounce pass slipped by him and Shanahan took off on a breakaway. The casual fan elsewhere will assume, as he watches the out-of-town scoreboard and sees that the Oilers have clawed to a 3-2 series lead, that the Oilers must be getting a lot of breaks and career-making performances from a bunch of players. I wrote yesterday that the latter proposition was true of exactly one Oiler: Fernando Pisani. The sentence stands unchanged. Pisani has chosen the right time to have one of those opportunistic, dialled-in streaks that keeps him in the league. Nobody else on the roster is playing over his head--certainly not Pronger, who was superhuman all year (though it admittedly took him a long time to calibrate his point shot).
Roloson has been terrific, but he helped to carry a much worse team to the brink of the finals in '02, and there's nothing in his prior record that would suggest he wasn't better than Manny Legace to begin with. At the same time, he hasn't been playing so well yet that you'd stack him up against Miikka Kiprusoff. In this series, he's played as advertised, allowing few weak goals but not doing much in the way of flashy heroism either.
Ales Hemsky, the team's finest pure scoring talent, has been frustrated by close attention and keeps trying to create goals with his feet. Legace is beatable up high and has been getting killed on tip-ins. Hemsky, for some reason, keeps trying to sneak the puck behind Legace before shooting. It's doubly frustrating because Hemsky has a hard, accurate wrist shot. When he used an unforeseen top-shelf wrister to put the Oilers in the playoffs, I promised I wouldn't bitch to myself about his propensity not to fire the puck at the net. I'm trying, I really am.
There are something like ten Oilers--Spacek, Smyth, Peca, Hemsky, pretty much all the younger guys--who have had trouble adjusting to the reffing and keeping their sticks down.
Shawn Horcoff, somehow transformed by a year in the Swedish Elite League, looked like Joe Thornton's classier older brother for the first three months of this season. He's never again getting back to that level, and he didn't make any real offensive noise in this series until today, when the Wings gave him about 40 seconds to stand in the crease with the puck and bang it by Legace.
Sergei Samsonov, a winger who jerked Oiler fans out of their seats twice a night after his acquisition at the deadline, has been near-invisible with a couple of exceptions.
Radek Dvorak is still the profoundly ineffective Radek Dvorak of the regular season, not that anybody can accomplish much when the opposition has carte blanche to break his stick in half as he crosses the enemy blue line. D-Vo got a breakaway in the first period today on a smart lead pass, and as soon as he breached the Wings zone I thought to myself "It'd be nice if he at least hits the net here." He didn't.
Rem Murray has already heard the phrase "doesn't belong in the NHL" too much during this series, so I'm not going to repeat it.
Ethan Moreau, the Oilers' prime Selke candidate, has been out with a groin injury; he played today and laid a few hits, but probably isn't 100% yet.
The team as a whole has been getting wiped out in the faceoff circle, losing 193 draws and winning just 149.
In general, the Wings have been the more impressive, robust team in terms of physical endurance. It is not a coincidence that the Oilers had a 3-1 lead with 30 seconds left today and were able to prevent overtime only because of a heroic shot-block by Horcoff.
The sixth-D slot has been a mess: MacTavish has been switching between Tarnstrom and Matt Greene like a baseball manager trying to find a fifth starter who won't get shelled. (Tarnstrom got the call today and was adequate.) MacT can cut the sixth man's minutes, but because the front-end guys are close to their limits (especially in light of all the horseshit PKs), that inevitably throws more of a burden on Marc-Andre Bergeron, who revealed in the regular season that his stamina isn't the greatest. Moreover, the short shifts MacTavish is giving his forwards sometimes require the defencemen to stay out an extra 30-60 seconds, and the changes are generally getting a little sloppier every game. But Certified Genius Mike Babcock has not yet found a way to exploit this.

When you consider all that, what's left to say? The Red Wings have been very unlucky in losing their top scorer for the first two games of the series and their spiritual leader for the last two--but neither one has done much damage so far when healthy. The Red Wings lead the series in the "fluke goal" category about six to zip. And Lord knows the referees have done their best to even things up for the Wings; even Detroit fans have too much dignity (when they're not bombarding the ice with mollusks) to defend the officials' performance. Don Koharski and his partner were as bad today as the Joanette team was yesterday.

Summary: the Oilers aren't getting unusual performances, and the breaks haven't been going their way. And they're still up 3-2 on the President's Trophy winner. In fact, in an alternate universe where the pick play is whistled consistently, they're relaxing right now and waiting to see who their second-round opponent is.

I still don't think the team has really confronted anything resembling adversity in these playoffs, and I don't for one second trust in their collective psychological ability to rebound from it. (It's a great and unexpected pleasure that they've been playing with the lead so much.) But if they can finish off the Wings in Rexall on Monday, with the loudest fans in any sport behind them and a mentally shattered human being guarding the Detroit net, it is time to start taking this club seriously. We can start whispering, carefully, about just where their season might end.

- 11:07 pm, April 29 (link)
---
From the world press, 4/29/06

The NYT profiles Egypt's Amr Khaled, the Dr. Phil of conservative Islam [wikipedia]
I wish I were making this stuff up dept.: Zimbabwe reviews its Witchcraft Suppression Act
Economist: don't be fooled by their victory in the youth-jobs struggle--French labour unions still face a legitimacy crisis
Why did 200 dolphins commit mass suicide on the beaches of Zanzibar?
A Japanese editorialist (whose memory obviously doesn't stretch back to 1931) tries to understand why relations with China are at their "lowest point ever"
Fiscal imbalanz? €60 billion in debt, the city of Berlin demands cash from a skeptical hinterland
Secularic acid: Can Muslim Turkey handle a reality show about transvestism?
Meanwhile, the hard-working owner of a chain of Mexican sex shops tries to overcome 400 years of Catholic influence one day at a time
Swedish gov't to ABBA's Björn: you owe us $12M in back taxes on copyright royalties
"Our second hometown": diaspora Jews want their wartime haven in Shanghai to be made a UNESCO heritage site
- 11:42 am, April 29 (link)
---
Killing themselves to live
Late last night I saw that the Houston Texans had used the #1 pick in the NFL Draft on a defensive end, Mario Williams. "Damn," I said to myself. "They took a pass-rusher? Jesus, I'm not exactly an expert on college football, but haven't these guys seen video of Reggie Bush? Looks like there are a few guys in that organization who are going to have these words on their tombstones: 'He overthought the most important decision of his life'.
...Ah, well, I'll write about it tomorrow." But Chuck Klosterman beat me to it:
I suspect Williams is potentially stellar. In time, he could be Pro Bowl caliber player. And the Texans' reasoning (I assume) is that (a) you build a team around defense and pass rushing; (b) they already have a decent running back; (c) Bush might be hyper-expensive; and (d) Reggie's parents appear to be living in a free house, which seems a tad sketchy. This is all fine and reasonable. The only problem is that Gary Kubiak has failed to weigh these points against the opposing argument, which is that REGGIE BUSH IS IMPOSSIBLE TO TACKLE. HE IS WAY, WAY BETTER THAN ALL OF THE OTHER DUDES WHO ARE ELIGIBLE TO BE DRAFTED. WHEN REGGIE BUSH IS RUNNING WITH THE FOOTBALL, THOSE ATTEMPTING TO KNOCK HIM TO THE GROUND CANNOT SEEM TO DO SO. THIS QUALITY IS ADVANTAGEOUS WITHIN THE GAME OF FOOTBALL, AS THAT IS PRETTY MUCH THE TOTALITY OF THE SPORT.

Obviously, this decision is wolf-face crazy. It's the kind of decision you make when you are drunk, and on cocaine, and on deadline, and on fire. It's going to define the future of the Houston franchise, and it will potentially wreck it (at least for a decade).
- 11:41 am, April 29 (link)
---
A busy day, part III
Bad news on the doorstep. It is practically becoming a tradition for ambulances to appear outside my house after major sporting events...
- 5:08 am, April 29 (link)
---
A busy day, part II: Oilers-Wings Game 4 review
Naturally I don't have much to say about this piece o' crap played Thursday night at Rexall. The Oilers will be harbouring a grudge against Marc Joannette and Dean Warren, a refereeing tandem already loathed here for bad regular-season decisions. After being admirably strict about restraining Detroit's reliance on the pick play for three games, the refs missed pretty much the worst single instance in the entire series when Lidstrom exchanged the puck at the point on a power play, got in Jarret Stoll's grill, and basically all but went "BOOGA BOOGA!". That led to Detroit's third goal, the game-winner; the second goal had been pure garbage, scored when Datsyuk rang the puck off of two goalposts and it came out onto Robert Lang's stick.
And if the Oilers dwell on all that, they're dead. What they should be dwelling on is that they don't have anybody who is converting the easy opportunities the way Robert Lang has made a career of doing; that Stoll wrongly gave up on the Lidstrom play because Joannette was inside his head and he was hoping to draw the easy call instead of fighting through the pick; and that the second period had ended with a full two-minute 5-on-3 power play upon which they unforgivably failed to capitalize. The two-man advantage was especially amazing--the Oilers simply refused to send any of the extra men to the net and just kept trying to thread diagonal passes like a Victorian grandmother making a doily. You would swear they didn't know they were up two players.
Those two foul minutes might have been the deciding phase of the series, because Pavel Datsyuk is now skating at something resembling his real straight-line speed. With 4:07 remaining in the game he created a textbook odd-man rush with Zetterberg and Zed deposited the insurance goal. Detroit's a different team with a healthy Datsyuk, as anyone would be, and the Oilers' young players were frightfully exposed all night: Matt Greene, Brad Winchester, and Marc-Andre Bergeron drew a total of six cheesy minor penalties. I would look at getting Greene out of harm's way and replacing him with a well-rested Igor Ulanov, although the danger there is that Ulanov didn't play much down the stretch in the regular season when the Oilers defence finally started to harmonize with Roloson's insistence on seeing the puck at all times.
The good news is that they'll make fast ice for Datsyuk at Joe Louis and that the Oilers still have the better goaltending. They need a couple more guys to step up and transcend their limits: right now only Fernando Pisani, God bless him, is in that category.
- 5:03 am, April 29 (link)
---
A busy day, part I: jury duty
When I mentioned yesterday morning that I had to answer a juror summons, I got a great deal of advice in my Inbox about how to evade it. As someone who has written in defence of the jury system, this would have been awfully hypocritical--and, anyway, it's not as easy as some people appear to think. Alberta's system of juror selection appears to incorporate a compromise that doesn't exist in other jurisdictions: the Crown and the defence have an unlimited number of peremptory challenges, but they don't get to question the jurors about their beliefs. The only data available to them, other than what the lawyers can derive from giving you the hairy eyeball, is what's written on the juror summons--your name, your address, your occupation, your date of birth, and that's about it.
I was part of a jury pool numbering just shy of 200; the judge explained to us that there had been five trials pending when we were sent notices, but that only one had not yet been settled. The accused, a boyish, impassive East Indian man who watched the ceremony from the prisoner's box, was charged with sexual assault and sexual congress with a minor under the age of 14. Veniremen were selected by lot (a desk-sized rotating bin, with cards containing the names of those in the jury pool, is used) and called to the front of the courtroom 12 at a time. Three groups of 12 were required before a complete jury (with two alternates) could be assembled; about nine veniremen were challenged and dismissed, seven convinced the judge to excuse them on the grounds of hardship or preexisting plans after learning that the trial would last four days, and six were left over at the end. I cannot be sure whether there was a pattern to the challenges, but as one might expect the jury that was eventually empanelled consisted mostly of men under 45.
The whole thing took place in an atmosphere of nervous humour; the Clerk of the Court, forced to read out 200 names, faced heroic struggles with growing hoarseness and with an Edmontonian cross-section of tongue-twisting Eastern European and desi surnames ("Bo-ha-tyr-chuk?"... "Wee-na-meer-antry?"). Upon being admitted to the courtroom, the jury pool was shown a ten-minute video explaining the process and our role; it will come as no surprise that it featured Alberta's ubiquitous cable-TV and training-video legend, Fred Keating. It was emphasized to us that we should not take it personally if we were selected as veniremen and then challenged; the warning seemed slightly silly until that part of the process began, when it became obvious (even to those of us not called) that it's actually kind of humiliating to be eye-raped for ten seconds by a querulous defence lawyer. By noon, I was at home, catching up on my nicotine consumption and enjoying a plenitude of democratic karma.
- 2:49 pm, April 28 (link)
---
Even if you're the last human being on earth any sane lawyer would put on a jury, you still have to turn up when you get the summons in the mail like I did last month. As a consequence, readers may encounter minor delays in service herein (and on the playoff page)... -6:12 am, April 27
---
From the world press, 4/27/06

Good old-fashioned Kremlinology: a South Korean spy report suggests that Kim Jong-Il is ready to name Son #2 his official successor
In apartheid times, Namibia's Bushmen scouted for South African troops fighting SWAPO rebels; now SWAPO is the government and the Bushmen eat mouldy rice
Farmers in southwest France (literally) fight the Republic's plans to continue releasing Slovenian brown bears in the Pyrenees
America had Tupac vs. Biggie: East Africa has bongo flava stars Dudu Baya and Mr. Nice (who, unsurprisingly, has a 1-2 record in their three fistfights)
Hands up, all those who knew that Brazilians had "a national penchant for anal sex"
Brazil's all-conquering "sergeant-major", "Big Phil" Scolari, is being targeted by the FA to take over the England side--no word on whether he likes anal too
Education before human rights? UN ambassador Angelina Jolie lets a private security force run wild in Namibia
The paranoid, all-powerful Burmese army conducts a massive arms buildup, spending real money to fend off an imagined U.S. invasion
Panic reigns at Hyundai's offices as Korean prosecutors prepare for the arrest and trial of the company's CEO on bribery charges
Daniel Doron in the JPost: when Palestine dominates the Knesset elections, economic policy always ends up the loser
Carrot and stick: Pakistan's Musharraf promises his lawless frontier that he'll take troops out and put money in if mountain tribes join the war on terror
30 Members of Kenya's Parliament get swept up in a police crackdown on stolen luxury cars (apparently pretty much the only kind they have)
Meanwhile, employees of a Norwegian Texaco get the "shock of their lives" when an absent-minded customer who forgot to pay for gas turns out to be the King of Sweden
- 6:00 am, April 27 (link)
---
From the world press, 4/26/06

A Swiss Catholic politician believes that the Swiss Papal Guard should be abolished after 500 years of service
Oops! Many of the "settlers" granted nationalized Zimbabwean farmland promptly befouled the water supply with shit but continued to drink from it, creating a mass health crisis in areas days away from hospital care
Where have you gone, Elmer Valo? The Czech Baseball Association Extraliga struggles to boost the sport's popularity in a hockey-obsessed land
Papers, please: 4½ years after 9/11, the Germans still produce the world's most trusted passport
Facing resentful Europeans at a London meeting, Gazprom's CEO quotes Scripture in his own defence...
...and the next day, his state-owned company overtakes BP as the world's largest gas firm
Historikerstreit of the day: Israeli and international scholars debate the newly-reassessed role of Irgun in the Warsaw Ghetto uprising
Count, énarque, revolutionary: a Telegraph profile of AXA's compelling CEO, Henri de Castries
"Whom should we fear more?" A close-up tactical view of the struggle between the legitimate government and the Taliban in southern Afghanistan
Always good for a (nervous) laugh: Russian weirdo Vladimir Zhirinovsky wants to nuke Japan, dump radioactive waste in Germany, and recapture Alaska
The Shanghai News investigates international reports of larger Chinese bust sizes and strikes gold
The answer he was born to make: the great Tretiak takes over the helm of Russian hockey
The English-speaking world's source of cheap call-centre labour is India; it seems Senegal hopes to play the same role for France
How dare they print the truth: Vietnam isn't happy about the Chosun Ilbo's reporting on websites where poor Vietnamese women beg for South Korean husbands
Why the hell can't the Germans resist putting on ridiculous modern-dress stagings of Wagnerian music-dramas?
- 6:53 am, April 26 (link)
---
Oilers-Wings, Game 3
Notes about a game I watched only intermittently until the OT:
It's probably a little early for me say to "Screw you" to everyone who dismissed Chris Pronger's Norris Trophy candidacy, advocated earlier in this space. But it's definitely not too early to say the same thing to opponents of video goal review. The phantom Jason Williams goal that seemed to win the game for Detroit tonight, but that actually entered the net outside the goalpost, should bury that argument under a thousand tons of concrete and stamp it down with the combined boots of the North Korean People's Army. Video goal review is not perfect, fellow Edmontonians, but it is a friend to justice.
I've rebutted the "Edmonton is a young team" myth about a hundred times in various venues. The plain facts of reality still haven't percolated upward to the control booth at the CBC, which continues to preach the myth as gospel almost as often as Mark Lee masturbates to photos of Steve Yzerman. After the third intermission tonight, Steve Staios was asked face-to-face whether the long overtime was an advantage for the "young Oilers." As God is my witness, Staios will turn 33 years of age in July. On the Oilers' defence, he is playing alongside Chris Pronger (31), Jaroslav Spacek (32), Dick Tarnstrom (31), and Jason Smith (32). It's been a while since the Oilers could be confused with the Muppet Babies; these guys are pretty much in prostate-exam-and-RRSP territory. For Christ's sake, Dwayne Roloson was born eleven days after Abbey Road was released.
I can almost understand why the CBC promotes the Young Team Myth, given the premise that their employees are all unionized sacks of blow-dried tax-gobbling filth who don't give a crap about facts and are willing to be misled by even dopier hirelings of the local media. (Probably not literally true.) What surprises me is that they continue to promote it when the indisputable evidence before their eyes, from Games 1 and 3, is that the Oilers wear down more dramatically in overtime than the Wings. Until the Oilers caught a break in front of Manny Legace, Detroit had all the good chances in the 5th period tonight. And even leaving age aside, Chris Chelios, who once played the "rover" position for the Ottawa Silver Seven, arguably appears better-conditioned than some of the younger Edmontonians.
Of course, this isn't good news for the Wings or their fans. If they were buffaloed after the two games in Detroit, when the Oilers formed a hoplite phalanx in the neutral zone and were accused of playing "Minnesota Wild hockey," what would you call them now, after losing a relatively open game on a proper surface? (Maybe you guys were hoping we'd play "Columbus Blue Jackets hockey"?)
The Oilers still have a fair amount of room to improve their game; Samsonov is overdue to posterize a defenceman or two, our "number-one centre" Horcoff has missed about a dozen open nets, and Raffi Torres has been delivering nice licks but doing little else. This was not one of the their 20 best games of the season: they displayed the gelatinous backbone to which their fans have become accustomed by coughing up a 3-1 lead, and they were distinctly (though not overwhelmingly) outplayed after regulation time. But now that Roloson is holding down the fort, the team no longer needs to contend with the razor-thin margin of error that made the bulk of the regular season about as much fun as watching an endless reel of the fingernail scene from Syriana. And if there were any such thing as cosmic justice, those of us who wore ourselves down citing statistical evidence for the proposition that this would be an excellent team given merely decent goaltending would wake up tomorrow morning on a divan made entirely of American dollars. Next to Carmen Electra and that slutty hillbilly chick from American Idol.
What can stop the Oilers now? A sudden recovery from Pavel Datsyuk would threaten the whole blockading-and-counterpunching strategy, because no defensive scheme can imprison a truly elite scorer (except by double-teaming him and creating corresponding space for his linemates). So I suppose Mike Babcock could try praying to his lord and master, Satan. Barring intervention by the Great Beast 666, the Wings face a 2-1 deficit against a faster, harder-hitting team whose road record shows it can play anywhere, whose league-lowest shots-against total shows it can play defence with anyone, who has the better goalie, and whose offensive components run the gamut from Euro-beauty to the ultimate in Canuck ugliness (i.e., Ryan Smyth). I shouldn't be as optimistic as I am: these are the same Oilers whose play from January 1 to the end of the regular season had me thumbing through Final Exit. But, honestly, the Wings victory scenarios in my head at this point all involve stuff like bus crashes or Mark Mowers getting bitten by a radioactive spider. Right now the Wings are only the second-biggest enemy--right behind the self-satisfaction that comes from exceeding justly low expectations.
Fun fact: if the Oilers win on Thursday, they will actually have followed that "split on the road, win two at home" victory road-map that everybody talks about all the time but that you never actually see in real life in any sport whatsoever.
Bonus fun fact: did you ever think about how much money a second win is worth to the lower-seeded playoff team? The Oilers' win tonight guarantees them the profits from a third home playoff game--a figure that, at current ticket prices and under "cost certainty," pretty much has to be in seven figures. Again, video goal review: a good thing.
- 3:41 am, april 26 (link)
---
Plus, the Germans do really love a nice dessert
By some terrible mischance, I run across the loathsome Rick Reilly while surfing through SI.com. Reilly's appealing for readers to buy pesticide-treated mosquito nets in order to help reduce the one million or so annual deaths from malaria in Africa.
See, nearly 3,000 kids die every day in Africa from malaria. And according to the World Health Organization, transmission of the disease would be reduced by 60% with the use of mosquito nets and prompt treatment for the infected.
Three thousand kids! That's a 9/11 every day!
Put it this way: Let's say your little Justin's Kickin' Kangaroos have a big youth soccer tournament on Saturday. There are 15 kids on the team, 10 teams in the tourney. And there are 20 of these tournaments going on all over town. Suddenly, every one of these kids gets chills and fever, then starts throwing up and then gets short of breath. And in seven to 10 days, they're all dead of malaria.
Of course, if malaria is an inevitable condition of life in Africa, you have to wonder how anyone manages to grow up there at all, don't you? When you stop and think about it, Reilly's appeal on behalf of SI seems rather weird, like a desperate plea for winter clothing from Ft. Saskatchewan, Alberta. Don't African governments have large-scale measures they can take against this disease? Hasn't malaria been completely eradicated from large parts of the earth in the past?

The answer to all this, of course, is "yes". Africans aren't helpless animals--they know what works against malaria. Unfortunately, what works against malaria is DDT. But any country that proposes a program of household DDT application faces starvation at the hands of European bureaucrats and consumers. The nets are an unnecessarily expensive and epidemiologically phony sauve-qui-peut measure, a work-around for what could be described as the greatest ongoing mass murder ever perpetrated. Reilly's appeal (or Ted Turner's appeal, rewritten by Reilly) isn't calculated to save lives--he's essentially urging Americans to underwrite the costs of environmental "consciousness" in the developed world. You might just as well FedEx a box of cookies to Stuttgart: it'll have the same net effect, no pun intended.

[UPDATE, April 27: For a opposing view, see Tim Lambert's rebuttal, which quotes from a Malaria Journal study released one day before I wrote this entry. (The study in question has the virtue--not present in most of the prior literature on bed nets--of being a retrospective assessment of a real-world community-health program that was administered outside the artificial context of a clinical trial. However, the program in question incorporated both bed nets and indoor DDT spraying, and the study doesn't address the question of the relative cost-effectiveness of interventions.) It's Tim's decided opinion that I am full of shit on this issue.]

- 5:54 pm, April 25 (link)
---
Forgiven? Two-and-a-half years after being dropped down the memory hole by ESPN, Gregg Easterbrook's TMQ has suddenly reappeared with new content on Page 2. Thus continue the curious peregrinations of the world's only 8,000-word weekly sports column written by a fellow of the Brookings Institution. -11:24 pm, April 25
---
Jane Jacobs, the American visionary who became a devoted Canadian, has died at 89. Recommended: Bill Steigerwald's 2001 interview for Reason magazine. -11:05 am, April 25
---
From the world press, 4/25/06

Eggs in one basket: NFL Europe concentrates its talent in Germany just in time to get stomped by the FIFA World Cup
The 2,000-crore man: as leading Hindu-nationalist politician Pramod Mahajan recovers from bullet wounds, his brother explains his motives for the shooting
After 20 years, relatives of diehard Chernobyl "self-settlers" are allowed into the radioactive "exclusion zone" for brief visits
Elsewhere, the surviving "liquidators"--firefighters, engineers, and medics who extinguished the Chernobyl fire and cleaned up after it--face a grim fate
A Norwegian woman becomes the first to reach the North Pole on foot from land
"The boss thinks pinned-back hair is a symbol of oral sex": a Western girl's month selling metered romance to salarymen as a Japanese bar hostess
Madness in central Asia dept.: how German banks keep the autocratic Turkmenbashi afloat for oil's sake
Telegraph: Sebastian Cresswell-Turner goes underground for a snapshot of Britain's new imported underclass--the Poles
With gas prices rocketing, the acronym for today is LNG (liquid natural gas): Australia's Woodside Petroleum is buying a fleet to serve the US market, while Qatar prepares to meet British energy needs that the North Sea can't anymore
Doesn't this seems to happen a lot? The EU is growing unpopular in Finland, Scandinavia's only Euroized country, just as the rotating presidency is about to land there
This seems to happen a lot, too: Gullible doctors continue to thwart Indonesian efforts to try an ostensibly hale and fit Suharto
Nationalism with a blonde coif: The Guardian does Marine le Pen
CSM: Germany, under economic pressure to get more mothers into the workforce, tries to choose a policy path
An EU human rights court hammers Switzerland for wielding official-secrets law against two journalists
Two Burmese students face seven years in jail for composing a poem in praise of democracy
Israel's hockey team, which is coached by Jean Perron and trains within rocket range of Lebanon, has a tough fight to remain in the IIHF's world Division I
A former prime minister of Trinidad is sentenced to two years' hard labour (!) for hiding personal funds offshore
The dingy Sheremetyevo, once the showpiece Soviet airport, awaits rescue at the hands of Euro infrastructure nabobs while regional rivals take away business
Meanwhile, the masterpieces of Soviet-era modernist architecture are in the same boat: here's the start page of a Moscow Times photo essay, which includes the only private home ever built in the USSR

- 10:51 am, April 25 (link)
---
Fact-free blogging!
Courtesy of Matt McIntosh comes a marvelous scholarly paper about induction. It's entitled "Fact-Free Learning", but it's not about public schools: instead, using linear regression as a model of the search for patterns in human events, four behavioral economists show that
...given a knowledge base, finding a small set of variables that obtain a certain value of R² is computationally hard, in the sense that this term is used in computer science.
To put it another way, correlating phenomena with one another appears to be part of a class of problems that, for practical purposes, gets infinite very quickly as the number of data grows or as the phenomena get more complicated. How does this fit in with "fact-free learning"? It suggests that, even within the casual database of information that pretty much everyone shares, there are a lot of patterns remaining to be found that will appear "obvious" or "trivial" once discovered, precisely because they are based on well-known facts that haven't been glued together. It also suggests, perhaps, that there is more luck than once suspected behind the appearance of a great synthetic mind.
- 5:46 pm, April 24 (link)
---
From the world press, 4/24/06

"From Kaliningrad to Vladivostok and from Murmansk to Orenburg": weighing Russia's Islamism problem
Bangalore or Bengaluru? How a film star's death, and the subsequent rioting by his private army of fans, disclosed ethnic tensions in India's economic showpiece city
This analysis of Putin's plan to politically reorganize about one-eighth of the earth's land surface is truly compelling in its near-incomprehensibility
Surprise surprise: Muslim riots have nationalist lepenisme rising in the French polls
The world has been so free of financial crisis recently that only two countries still owe significant sums to the IMF, which may not have a future
"Wee bits of wall decoration": a profile of the Tally from Kirkcaldy whose sub-Sargent beach scenes have made him "one of the few millionaire artists in existence"
Newspeak for social peace: an EU directive says there are no "Islamic terrorists", only "terrorists who abusively invoke Islam"
Whitewashing the Stasi: former Stalinist torturers try to rehabilitate their image by exploiting Ostalgie and, in an astoundingly unusual move for Germans, claiming they were just following orders
"It looks like Africa is targeting the couples": a dispatch from the Nigerian version of "Big Brother". Which, apparently, exists
Al-Jazeera: Muslim share buyers make the London IPO of the first international sharia-compliant investment firm a roaring success...
...but meanwhile, value is being incinerated on the Saudi bourse thanks to overbold regulatory steps
An unforeseen consequence of Indian prosperity: commercial airline pay scales are bleeding the Indian Air Force dry of experienced pilots
More on the 20th anniversary of Chernobyl--this time it's a retrospective view from Finland, where the fallout from the accident wasn't just literal
Harnessing the tiger: Four of Africa's footloose ex-"statesmen" are featured at a South African university forum on development, inspiring queasiness from those who want to leave the old-fashioned personality cults behind
Sensitive spot: a top Chinese statistician points out major flaws in the way the U.S. calculates its trade deficit (and I believe he's on pretty solid ground, too)
The blood drinker: an ex-guerrilla and newspaper columnist will run to Hugo Chavez's left in Venezuelan elections
A worldwide report on antisemitism hits the streets of Israel, bearing good news from France and Canada
Meanwhile, the winners have been declared in Israel's antisemitic cartoon contest, organized to illustrate the concept of "humour" to approximately a billion or so uncomprehending Muslims
Towards a German Islam? A Turco-German author says that immigrants shall not be stampeded--but Germany should not be afraid to demand more from them
Nigeria announces that it will privatize the asset-management of its foreign currency reserves with help from the usual suspects
Indonesian intellectuals unite to denounce creeping Muslim theocracy in a megacountry afflicted by ineffectual central government
A Syrian analyst offers a pessimistic take on the new Iraqi PM for the Asia Times
A question of incentives: were Malaysian students forced to watch pornography as punishment for skipping homework?
(þ: Craig Burley)
- 6:59 am, April 24 (link)
---
Red Wings-Oilers Game 2 review
At the end of the second period in Game One, the crowd at the Joe Louis Arena was lustily booing the Wings' power play. At the disastrous tail end of the second period in Game Two, they didn't even bother--you could have heard a jock clatter to the floor of the locker room. Right now the Red Wings and their fans around the world are tallying the toll from back-to-back home games, and they can't like the math: one exhausting win backed into on fluke goals, one loss as sharp and sudden and deflating as a pistol shot, a crucial home-ice advantage scattered to the wind, and the ghosts of first-round defeats to low seeds swarming all over the Motor City like hornets. I still wouldn't bet real money against the Wings, but I wouldn't trade places with any of their supporters right now either.
The playoff seedings are out the window, and not just because the Oilers got the split at the Joe. Pavel Datsyuk is coasting pathetically (full marks to Kelly Hrudey for documenting this brilliantly on "Behind the Mask"), and the Oilers have displayed decisively better goaltending and (despite no markers today) a slightly better power play. And yes, for those who are wondering, Mark Lee shut up pretty quick about "the best team in the NHL." To win this series, two things have to happen for Detroit: they have to outwork the Oilers, and they can't afford to allow goals from the Oilers' clock-killer forwards. (It's bad enough that Pronger is looking like Sergei Zubov out there.) You only have to watch the last three minutes of today's second period to see what happens when they let up one percent. On the second Oiler goal Mike Peca caught two Wing defencemen taking a breather as they approached a loose puck low in the circle, and on the transfer Nando Pisani was finally able to convert one of the punch-in chances the Oilers missed in Game One. On the third goal, the spirit of Mike Bossy somehow entered the mortal frame of rookie Brad Winchester, who took a pass not too far inside the blue line and confounded an unscreened Legace with a tough shot over the left shoulder.
The ice was much faster for this game than it was on Friday--obviously an ill-advised reaction to Datsyuk's return. It's going to be faster still on Tuesday night at the Coliseum (the puck was still skittering a bit). And God bless the behind-enemy-lines genius who threw an Alberta steak on the ice towards the end of "The Star-Spangled Banner." Unless I miss my guess, a tradition may just have been born. A suggestion for those who have tickets for Tuesday--don't boo the Red Wings: moo them.
[A side note about another series: everybody spent five months this year talking about how much better Joe Thornton had made Jonathan Cheechoo. It took me until about March to awaken to the truth in front of all our faces--it was Cheechoo who made Thornton better. By this time next week I expect everybody to realize it.]
[Generous-in-victory note: I remember feeling embarrassed on Yzerman's behalf when he announced he was going to play this season, and relieved when he begged off from the Olympics. Maybe we could have used the bastard in Turin. What did he do, get some kind of Keith Richards-style total blood transfusion? He looks 18 out there. Of course, when Yzerman was 18 he was getting his ass beat in the playoffs by the Edmonton Oilers, so I guess things come full circle. (Yes, there are limits to my generosity.)]
- 2:00 pm, April 23 (link)
---
Medium cool
Telefuturist Phillip Swann continues to peer ahead into the digital distance:
In 1960, Democratic Sen. John F. Kennedy defeated Vice President Richard Nixon in part because the latter failed to shave in the first presidential debate. Nixon's five-o'clock shadow made him look unfriendly, if not downright sinister.
In retrospect, the impact of Nixon's faux pas is remarkable when you consider that the debate was broadcast in a grainy black and white. Can you imagine if it had aired in color? Or, even worse for the non-telegenic Mr. Nixon, in crystal-clear High-Definition TV?...
The myth of the Kennedy-Nixon debates has been subject to radical resizing in recent years, but the underlying truth remains untouched--and there are abundant prizes in store for the first U.S. political party to figure out that the 2008 U.S. election will be decided by performance on a profoundly different medium than 2004's. Swann handicaps the early candidates here.
- 3:26 pm, April 22 (link)
---
From the world press, 4/22/06

With famine looming, Robert Mugabe folds his hand and invites dispossessed white farmers to lease back their own stolen land
(Related: here's a Namibian journo's gloomily absorbing account of a visit to inflation-racked Zimbabwe)
France Soir, the bankrupt former Resistance newspaper, wants to reinvent itself as France's first Brit-style redtop--but its employees are bitterly fighting the change
The last surviving equestrian statue from Rome's pagan age goes indoors to prevent corrosion
The Swedish Academy reluctantly admits the suspicious foreign letter "W" to the language with full privileges
The world's worst airline? With food poisoning, rampant overbooking, and racial tirades against passengers, Qatar Airways sounds like a frontrunner
"Los Angelized": Rome's first modernist building since the time of Mussolini has been called everything from a "coffin" to a "toilet"
Under attack from healthitarian ninnies, Bayer AG pulls Alka-Seltzer sponsorship from international speed-eating competitions
At Tokyo's hottest new restaurant, the food is good and, oh yeah, all the waiters are ninjas
It would be in very poor taste to joke about the Tunisian journalist named "Slim" who is in the third week of a hunger strike
The acting CEO of the Australian Wheat Board, which is accused of kicking back cash to Saddam, quits after just ten weeks on duty
The Chosun Ilbo takes a not-at-all exploitative look at the phenomenon of hot Korean babes in super-short miniskirts
"We have to be humble and patient": Le Monde chronicles the struggles of blue-chip French brand L'Oréal to create a cosmetics market in China [French-language link]
It can be done (with a little help from oil): Nigeria retires the last of its Paris Club debt and prepares to reinvest in social programs

- 9:31 am, April 22 (link)
---
Red Wings-Oilers Game 1 review
I can't argue that Detroit's win wasn't fair and square, but let's take note of a special hidden appendix to the NHL rulebook:
In the event that Kris Draper initiates a high-stick battle with you in front of your own net, you will receive a four-minute penalty. Draper will receive a two-minute penalty.

In a one-on-one with an onrushing Mike Peca, it is illegal to tackle him and bounce his head off the goalpost--unless your name is Nicklas Lidstrom.

Behind the goal line, goaltenders other than Manny Legace are not allowed to venture outside the trapezoid painted on the ice.

Chelios is allowed to cross-check you to the ice eighty feet from the puck and possibly dance on you with his skates. C'mon, he's Chelios! He's 44 years old!

Honestly, none of these hidden rules decided the outcome of the double-overtime game tonight. That had more to do with Detroit's two-pronged strategy of slowing the Oilers down with a crappy ice surface and running Ales Hemsky continually. The first part of the strategy yielded questionable results, allowing the Oilers to carry a 2-1 lead into the last ten minutes of regulation and hold out until the 57th shot against Dwayne Roloson (who silenced his detractors and buried them a thousand feet deep tonight). The second part was well-executed and decisive. If not for Sergei Samsonov, who scored the Oilers' first goal and created the second one by warping the Wing penalty-kill out of shape, Detroit would have earned a shutout tonight. Was there a single serious Oiler offensive chance in either period of overtime?

That said, if the officials had called a penalty on the Lidstrom tackle and Shawn Horcoff had converted a gimme on the doorstep, the game could have gone 4-1 the other way. The series is still wide open unless Datsyuk comes back at 120% instead of the more likely 80%. (Without Datsyuk, the league's "number-one power play" belongs in an oldtimer's benefit game.) The character of the play, which was contemplative and sloppy on the rigged ice at Joe Louis, will be very different in Edmonton. But the Oilers' non-Eastern bloc forwards must create more chances, and judging from the last 20 games of the season, that's a slender twig to rest victory hopes upon. And a 2OT loss followed by an afternoon game two days later is a high psychic hill to climb.

Special congratulations to the CBC for showing that special commitment to quality tonight that makes it so loved by Canadians. During the first Detroit goal (and most of the replays) the screen was blank because of a problem with the satellite feed. There was no power-play clock running at any time during the night. At one point during the first overtime period, the network actually cut away from the Oilers game and showed two minutes of Calgary-Anaheim by accident. And Mark Lee--who never commented on the ostentatiously awful condition of the ice surface, by the way--really needs to find some new material. Here is a fake but essentially truthful sample of his play-calling style:
And the NHL's best team wins the faceoff... Chelios, a member of the league's best team in the regular season, comes over his blue line... the winner of the President's Trophy for being the NHL's best team is having trouble beating the Oiler logjam in the neutral zone... now Shanahan has the puck at the point for the best power-play in the league, even though they're technically at even strength right now... he coughs up the puck, which you don't see very often from a team that could be described as having earned more points than any other during the NHL's 82-game regular season... [etc., etc.]
You would never know, listening to Lee, that the Oilers had any particular strengths or achievements to their credit; he did once mention that the Oilers were the league's 2nd best faceoff team, but hastened to add (in case anybody thought he had doubts about the Best Team in the NHL) that Detroit was a close third. Usually it takes a couple rounds for an intelligent colour man like John Garrett to lose his temper at a bungling booth colleague, but Garrett flipped out briefly in the second period when Lee described a negligible Detroit shot from a bad angle as "dangerous." All in all, it was the kind of CBC broadcast that would have sent newspaper scribes to their computers to wage a jihad if the OLN had been responsible. The Prime Minister is said to be a hockey fanatic, so I'd like to personally appeal to him to order the Corporation to re-hire Chris Cuthbert and send Lee out to cover Taiwanese jai-alai. (If they don't play jai-alai in Taiwan, so much the better.)
- 9:24 pm, April 21 (link)
---
Robot wisdom
Those treasured longtime readers who have grown used to the separate NHL Playoffs Page should note that hockey posts will be going right here on the main page this year. (Sports-haters should keep coming back for the world-press roundups and other Coshery.) The automated playoff odds report will remain where it is and will be freshened up ASAP after every day's games. Let's consult the Big Spreadsheet that generates those reports and see how it thinks the round of 16 will look. These predictions should be read aloud in a Dalek voice.
Detroit over Edmonton in 5
Dallas over Colorado in 5
Calgary over Anaheim in 5
San Jose over Nashville in 6
Ottawa over Tampa Bay in 5
Montreal over Carolina in 6
NY Rangers over New Jersey in 5
Buffalo over Philadelphia in 5
Yes, these are very anomalous results. The BS shies away from sweeps like a scalded cat; normally it will call for about half of all series to go seven games. It's just a coincidence that this year the BS sees no close first-round matches. It's fonder of Edmonton than most humans, for instance, but it sees Detroit as a dominant team despite the sissy division. Since it's sensitive to save percentage, it hates Tampa's goaltending and loves Huet and Lundqvist. It considers MTL-CAR and SJ-NAS really quite close, but like many human prognosticators, it's unwilling to bet that a road team with a lower seed will win a Game Seven.
On the whole I agree with the BS's judgments--the one series whose outcome I'd be tempted to change is Montreal-Carolina. In particular, I think stretch runs like New Jersey's are overrated; I consider it unreasonable to write off results from early-season games, when everybody is still fighting for playoff life, and to hype long sequences of games against teams that are safely through alternating with games against teams that have no hope. (Is there any empirical warrant for this?) Moreover, everybody's treating Martin Brodeur's last Stanley Cup win like it was last week instead of three years ago, and he didn't look all that hot even in that playoff year. (Caveat: I hated them in '03 too, so they'll probably win the Cup again just to make me look stupid.)
- 3:08 am, April 21 (link)
---
From the world press, 4/21/06

Gelbe Karte: Germany backtracks on its disastrous, vapid, what-the-hell-were-they-thinking 1996 spelling reform
Meanwhile, the time has come to decide whether Germany's last Nazi-styled church should be preserved for posterity
Inkless Wells take note--here's a trenchant, detailed Kyiv Post analysis of why "colour revolution" failed to work its magic in Byelorussia
Mightier than the sword: sample the inflammatory manga that's turning up the heat on Japanese-Korean tensions
Bamiyan II: where did the Azeri-controlled Christian tombstones of Jugha go?
Pribor, Freud's Czech birthplace, enjoys a difficult relationship with its most famous son
Blood money at the box office: Rwandans are indignant that Hollywood is presenting a false picture of their genocide war
More Chernobyl fallout: iodized salt could have saved 5,000 irradiated children from cancer, says UNICEF
Denmark discovers the liberal internationalist's dirty little secret: trying and sentencing Third World nasties is fun, but someone's got to jail them when the gumflapping's done
After years of dormancy, the Russian animation business begins to find its feet with Western help
Mt. Athos, Greek Orthodoxy's all-male monastic statelet [wikipedia], is blockaded by peeved Greek fishermen
Hugo Chavez is creating "a South American Axis of Evil", claims... er... Hugo Chavez
An Australian royalwatcher tells how the British monarchy had to be saved--from the Queen
The Economist says the party of Lee Kuan Yew is still a safe bet in Singapore's upcoming election
The mouse that roared: an interview with the Swiss founder of Logitech
Saudi Arabia frees a journalist arrested on suspicion of apostasy
Bed nets are still the first line of defence, and still underused, against malaria in Africa
- 2:12 am, April 21 (link)
---
This should help you kill time until 7 p.m. Eastern: at ProTrade.com, Gabriel Desjardins is making a compelling stat-based Calder case for Sidney Crosby. -12:00 am, April 21
---
From the world press, 4/20/06

Why oh why did Hillary bomb Iran? Timothy Garton Ash composes a speculative fiction for the Guardian
Following the Nepalese strife? Here's a "full coverage" page prepared across the border for the Hindustan Times
New India, New Gandhi: Sonia's son Rahul breaks with tradition, discouraging supporters from physical grovelling
The Böögg, Switzerland's answer to Quebec's Bonhomme, has been kidnapped by leftists--but at least they left behind the explosives destined for his head
"An ecumenical minefield": an Irish priest flirts with archdiocesan disapproval by "concelebrating" Easter Mass with three ministers of the Protestant Church of Ireland
Hey Ahmadinejad--if the populace is behind you, why is there a rampant gold panic in your country?
Brother, can you spare a Bin Laden? That's what Europeans call the €500 note because "people know they exist but no one has ever seen one"
Brazil's populist strongman Lula will announce that the country has achieved self-sufficiency in oil production tomorrow--but partypoopers note that it's because the economy has been at a standstill for ten years
Managers of a section of the Great Wall of China hope to discourage vandalism by letting visitors leave graffiti on a facsimile
Somewhere, Robert Mundell is smiling: Iceland, whiplashed by a volatile commodity-based currency, looks at euroization
Meanwhile, the Chinese manufacturing sector is shifting to higher-end consumer products as the country enters the big leagues and businesses brace for a higher renminbi
Mindful of its war debt to Canadian troops, the Dutch city of Groningen will hold its second Terry Fox run Saturday
Togolese celebrity Togbui Gnagblondjro III is a voodoo high priest and newspaper editor. Who knew there was a difference between the two?
"This is the first time the issue of sexual harassment has been written into Chinese law"
Open city: immigrants now outnumber natives in Brussels
Discrimination or equity? The old battle flares up at the University of Peking as male applicants benefit from affirmative action in language faculties

- 7:06 am, April 20 (link)
---

Be sure to snag today's National Post, where I have an Issues & Ideas column about the Saskatchewan Court of Appeal's Owens decision. (You can find a case summary with a link to the decision at the Law Society of Saskatchewan website.)

- 11:39 am, April 19 (link)
---
Alberta beyond the metropolis: a dual portrait in hyperlinks
An ATV chase followed by a sword battle: James Bond movie, or just Friday night in Fort Mac?
I think I grew up with this guy. Actually, I think I grew up with 15 or 20 of this guy. Minus, you know, the ones who ended up in the kingdom of steel.
(þ: Velvet Lounge)
- 9:48 am, April 19 (link)
---
From the world press, 4/19/06

The Solomon Islands are ablaze with rioting: in the unlikely event this comes up around the water cooler, here's a background interview with a correspondent, a domestic account of the problem, and the CIA Factbook page on the troubled archipelago
In a "surreal ceremony", Adidas unveils the design for the golden balls to be used in the World Cup as Private Eye readers snicker
Willie-come-lately: a translator tells the startling history of Shakespeare in Arabic (no Midsummer Night's Dream until the 1980s????)
Top-notch Spiegel backgrounder on the Chernobyl body-count controversy
Sweet science in the middle kingdom: China holds its first-ever sanctioned boxing event
Iranian sci-eng students celebrating the country's domestic enrichment of uranium served one another "a big yellow cake"
A Financial Times editor postulates that the narrow centre-left victory in Italy's elections was "the worst possible outcome" for the future of European monetary union
Suicide is painless: Indian cotton farmers who hoped GM seed from Monsanto would save them from growing debt face a spiral of despair
A dodgy Australian has been convicted of printing misleading government circulars to convince businesses to hire his microwave-oven-inspection business
Are you sitting down? Liberal theologian Hans Küng, who waged bitter war on Joseph Ratzinger, seems to quite like this Pope Benedict XVI fellow
A jaundiced but interesting Indian rundown of Western complicity with A.Q. Khan's nuclear black market
Eurovision silliness dept.: Finland wrings its hands over its loud, elaborately costumed, Gwar-esque entry in next month's competition [see also the IHT's profile]
CSM: Mogadishu is once again a war zone as the city suffers its worst violence since the Black Sea battle
The Mexican Supreme Court, for only the third time in a century, is invoking a special investigative power to pursue evidence that a businessman conspired to have a journalist jailed and raped
Cameroonian businessmen have a new, de-cronyized way to obtain tax stamps, but they're suspicious of the change
The Islamist majority wanted one of its own to run Turkey's central bank, but the appointment of an English-educated liberal economist has calmed twitchy financial markets
Tsuyoshi "Spaceman" Shinjo, former Met and Giant, will retire from Japanese baseball at the end of this season
A bribery scandal leads to a billion-dollar philanthropic gift from Hyundai
Wow, the Chinese really are different: the "next Yao Ming" declines to enter the NBA draft, saying "I'm not yet ready"
Khodorkovsky follo: the oligarch wins a legal victory against solitary confinement
While the U.S. fights a problem with real students not being counted, Uganda confronts the opposite disorder--"ghost pupils"
A Japanese entrepreneur in Cambodia passes up tax breaks to set an example of capitalism for the Khmers

- 9:09 am, April 19 (link)
---
My NHL trophy picks
MIIKKA KIPRUSOFF, Calgary
Vezina Trophy; Hart Trophy; Sergei Zubov Trophy For Being The Player I'd Most Like to Kill With My Bare Hands
Kiprusoff's Vezina argument is universally conceded, but there's a tendency for sportswriters to automatically shove the league's best goalie into the 2nd or 3rd slot when it comes to MVP honours. But Kiprusoff was the difference between Calgary being a runaway division winner and being the Phoenix Coyotes' northern twin, and nobody else I know of can present a similarly overwhelming credential. The Flames' offence was the worst in hockey outside the three-barrelled sewer of the Western Conference (CHI/CBJ/STL). It generated 2,299 shots, which was 150 fewer than the New York Islanders.* Kristian Huselius might be their most dangerous goalmouth threat. And Lord knows they're not making the playoffs because Andrew Ference is such a genius.
Kiprusoff had an impact through every part of the season like no other player, matching his own record-breaking dominance in the 2nd half of 2003-04. It's worth giving him some credit for the Flames' performance in the playoffs that year, too, because the last round of trophy voting didn't take it into account. Jaromir Jagr owes Washington Capitals fans a salary refund before he can be decently regarded as a candidate for the Hart, and until he was traded for spare change Joe Thornton was putting on the ugliest display of anti-leadership seen in the league since, well, Jagr. I wish people would look a little harder for other finalists; the lineup starts at Dan Alfredsson and about five different guys from Detroit.
TSAR ALEXANDER OVECHKIN, Washington
Calder Trophy
Yes, he had the best rookie season, and yes, he deserves this award. Don't get caught saying he's going to be better than Crosby; he's two full years older. Most other candidates had a poor second half--even Dion Phaneuf, who is a national treasure in the making, kind of began to look confused out there at times towards the end. For pure impact in the standings Jussi Jokinen would be a nice counterintuitive choice.
CHRIS PRONGER, Edmonton
Norris Trophy
I know how it sounds, but hear me out. Statistically, the Oilers had the league's number-one defence this year; they allowed fewer than three goals per game, despite having Bozo the Clown in net for most of the year. If a guy's playing 30 shifts a night for the league's best defence, don't you at least have to look at him? Prongs was among the top ten D-men in offence, and he blocked twice as many shots as any of the other nine. He shoots the puck 102 miles an hour and he has the biggest wingspan west of Zdeno Chara. Unlike Zubov or Lidstrom, he hits, and hits hard. He played through a broken foot for a team that was on the playoff bubble. He took over the de facto captaincy ten minutes after arriving in town and he went door-to-door to visit season-ticket holders. Where's the weakness?
Scott Niedermayer is the guy I take if you won't let me have the big boss man. Niedermayer had an insane year and is the best puck-thief in the league. But, honestly, who are you more afraid of if you're a forward? If you had to find someone to break up a two-on-one and your children's lives depended on it, don't you take Pronger?
TOM RENNEY, NY Rangers
Jack Adams Trophy
At the start of the season I described the Rangers as a collection of talented pieces that didn't seem to fit together in any comprehensible way. The joke was on me, I guess. Above all Renney seems to have avoided succumbing to the occupational hazard of egomania. He let a lazy European superstar all but take over the team, stayed out of his way, and put his trust in a rookie goalie with only semi-impressive credentials. If reports are accurate he may have turned Tom Poti into a useful player, which is up there on the level of Christ's miracle at Cana. Prucha, who wasn't on too many radar screens to start the year, has blossomed convincingly on his watch. He got a good half-season out of Sandis Ozolinsh, for whom the labour market wasn't exactly beating down the door. Coaching in New York is a minefield, and it seems to me Renney has navigated it unusually well. Runner-up: Lindy Ruff.
ROD BRIND'AMOUR, Carolina
Frank Selke Trophy
Brind'Amour is the popular choice in a year when no one stands out. Among the guys I like, John Madden is -5 on the year, which is not what you look for in a Selke candidate. Antoine Vermette was insanely great for the Senators (big surprise--another one of their draft picks turns into gold), but he only plays 12½ minutes a night on that team. Ian Laperriere spent most of his time on a scoring line. Ethan Moreau is as gritty as a Saskatchewan backroad but doesn't quite have the gifts even for a trophy like this. I would still let Wes Walz play for me in a heartbeat, but he isn't a force of nature anymore, and I fear the same is true of Jere Lehtinen. I've always thought Brind'Amour was kind of overrated but I can't find a good champion to back against the consensus.
JAROME IGINLA, Calgary
Lady Byng Trophy
Assuming we take this award seriously for once and decide to present it to some world-class player who is a genuine sportsman and mensch (as opposed to just some soft European guy), there's no better candidate I know of than Iginla. More importantly, the award is actually regarded by the players as kind of a semi-insult. Giving the trophy to Iggy would emphasize to Calgary fans that they got just 67 points for their $7 million this year; it would brutally underline the fact that nobody regards the guy as even an outside Hart candidate anymore, despite the salary; and it would guarantee that "Lady Byyy-yyyng!" catcalls pursued him through 29--perhaps 30--NHL arenas next year. It's almost postmodern.
ANYBODY WHO HASN'T KILLED ONE OF HIS TEAMMATES
Masterton Trophy
Sorry, Dany. Maybe in the next life.
*Statistics reluctantly corrected by Matt Fenwick
- 9:31 am, April 18 (link)
---
From the world press, 4/17/06

The death of the vocho: a new regulation requiring taxis to have four doors is wiping out Mexico City's ubiquitous Beetle cabs
Imprisoned Yukos oligarch Khodorkovsky has his face slashed by a fellow inmate; was it an assassination attempt, a jailhouse "girlfriend's" revenge, or a display of power by a new gang boss on the inside? [See also: Kommersant's take]
Party tattoos make crossing the floor difficult for politicians in Tamil Nadu
An intifada on your block? Fatah threatens to attack Jewish targets "abroad" to intensify pressure on the Israeli government
Also in Ha'aretz: no "second miracle" for Pini Sharon, whose falafel shop was just attacked by suicide bombers for the second time
A comic portrait of Dublin's Easter Rising commemoration from the Irish Examiner
The ChiComs blame a rash of coal-mining disasters on corrupt dealings by government officials
The mother of invention: a Dutch fashion designer creates a "hip" alternative to the hijab for secularized gym classes
Chavez Watch: Bloomberg reports details of the increasing intimidation and "witch hunts" in Venezuela
Japan is close to opening up to American beef in order to protect the country's real masters--rice growers
Brazil's debt-ridden flag airline, Varig, is likely to be bought out by a subsidiary it sold off for cash in January
The Fukienese Honorary Chairman of the KMT arrives on the mainland for his first ancestor-worship visit
- 10:17 am, April 17 (link)
---
Credo quia absurdum
Four interesting findings you may not have heard about from that Ipsos religion poll [press release]:
There's nothing particularly Christian about Alberta. It's obvious from the study that age is a much more important determiner of religious faith than geographic location; the most firmly religious parts of Canada are the ones that young people are fleeing as fast as their feet and their educations can carry them. Overall, 62% of Canadians said they believed that their sins had been forgiven by means of Christ's sacrifice. The figure in Alberta was basically the same, 63%--which is markedly lower than the 72% rate reported in the Atlantic provinces and the 84% (!!) in Saskatchewan and Manitoba.
There seems to be a persistent gender gap in Christian belief. More women than men (66%-58%) professed belief in the Resurrection, which is not surprising, since religious belief is stronger in the older, demographically female-dominated age groups. But by a similar margin, more women than men (23%-16%) also professed the hardcore evangelical belief that "the world will end in the Battle of Armageddon between Jesus and the Antichrist." It's hard to explain this by means of age, because the study confirmed that this belief is more common amongst younger people.
Self-described "agnostics" have some distinctly puzzling opinions. Of the 814 Canadians polled by Ipsos, 30 described themselves as agnostic. Four of these agnostics, however, professed a positive belief in the Resurrection as described above, and three actually agreed with the statement "I feel it is very important to encourage non-Christians to become Christians." It's possible that the four didn't know what "agnostic" meant but liked the sound of it, and that the three were Straussians. Or maybe all seven were just having a little joke, like the one self-described atheist who expressed agreement with "the world will end in the Battle of Armageddon." (That might actually have been me, but I don't remember taking such a phone call.)
Christians don't have a monopoly on mysticism. Indeed, they may not even be the market leaders. All respondents were asked "Would you say that you have ever had a religious or mystical experience--that is, a moment of sudden religious insight and awakening?" 30% of agnostics, and 28% of those who belong to no religion in particular, answered "yes" to this question. The figure for Roman Catholics was 22%; for Anglicans, just 15%.
- 10:15 pm, April 15 (link)
---
I swear to god I just heard a newsreader on Toronto's Fan 590 AM say "...and the Milwaukee Brewers cubed the Mets 8 to 2". You're not gonna hear that one much, though it could be useful for football games that end 27-3. Or for 1-1 ties... -3:02 pm, April 15
---
"And then he just went away"
At the start of the NHL season, I had a slightly arcane theoretical dispute with James Mirtle about the best quick way for hockey fans to monitor their favourite teams' playoff viability. Mirt favoured, and has persisted in, a theory involving a 95-point qualification pace. I can't argue that this is a finally decidable issue, but I protested at the time that this involved an unnecessary extra calculation step; it also now appears that the survival point in both conferences is going to be more like 91½, so it may have created some needless suffering for fans of bubble teams like Edmonton.
My original suggestion was a little simpler: count overtime losses as losses and check if your team is ahead of .500 or not. I speculated that, with 16 teams qualifying in a 30-team league, the final cutoff would be very, very close to .500. I feel pretty good about how that panned out--especially since, according to current projections, the Oilers (40-41) will survive, leaving Vancouver (41-40) and Los Angeles (40-40) on the outside looking in. In the Eastern Conference the playoff qualifiers are all .500+, with only Atlanta (40-39) getting stiffed. Going forward, a robust rule might be "You'll need luck to get a postseason slot unless you're two games ahead of .500"--and certainly no team has ever had more luck than the 2005-06 Oilers did.
- 11:12 am, April 15 (link)
---
From the world press, 4/15/06

So where's Lionel Richie hanging out these days? You'll never believe the answer
GMU's Mark Katz explains for UPI why common ground between Putin and Castro has been elusive despite recent Russian policy
"Is them the thoughts of cows?" The FT catches up with cult author David Sedaris, aging gracefully in Paris
Another fish tale: Brazilian truckers need armed guards and satellite surveillance to protect salted cod, once a food for the poor, from thieves
Let my people go: Ha'aretz examines the problem of indentured servitude in Israel
Meet Hercharn Singh, the first Sikh cadet in the history of Pakistan's military academy
Good luck with that: Russia's Public Chamber tries to enhance the prestige of the ruble by mooting a ban on calculating prices and revenue in US dollars
IHT: Chad coup plotters used the same road from Khartoum that incumbent president Déby took in his 1990 takeover
Did you know dept.: Jamaica's National Commission on Ganja has been meeting for two years
Le Monde looks at Marine le Pen, daughter of Front National leader Jean-Marie, who is angling to succeed him as party president but has faced rebukes (some from him) for her stratégie de dédiabolisation [French-language link]
"Perversions of an unprepared democracy": inside China's new foreign-media crackdown
Taoiseach Bertie Ahern is pressuring the U.S. to regularize illegal immigrants--while neglecting his own backyard, say opponents
A Chinese-Canadian denounces the hiring practices of English-language schools in China in the Shenzhen Daily
Is oil from the Urals set to become an independent third benchmark in international petro pricing?
Malaysia's retired "Dr. M." fights a defamation suit against Anwar Ibrahim, the deputy he smeared and imprisoned in 1998
Chilean treasurer Velasco fights to maintain his distance from the central bank as the peso rises uncomfortably fast against the US$
Coptic-Muslim tension continues in Egypt as the government downplays a knife rampage through three churches
For the second time, the Philippines' Arroyo government imposes a moratorium on the death penalty
(þ: Adrian Willsher)
- 9:55 am, April 15 (link)
---
Old growth
In late 1996, I began storing Windows shortcuts to frequently-visited sites in a free-standing folder on my office computer. At the time I had the sense that this system would serve me better than a bookmark list tied to a specific browser, and for many years, as I heard complaints about the difficulty of porting URLs between browsers, it seemed like this was so. The same folder survived from then until now, or nearly ten years. Over the years it has resided on four different computers, been browsed with three different applications, and been transferred between PCs by means of four different media (two sizes of floppy, FTP, and CD-ROM).
The "most recently modified" timestamps on many of these files bear 1997 dates. The very oldest is a link to the Secular Web Library, which still looks much like it did on January 8, 1997 at 6:48 pm. The four next oldest are a link to the Legislative Assembly of Alberta (then important to my work, now important only if I'm annoyed with the government), Dilbert.com, a list of top-level national domain names, and the inexhaustible Drudge Report, which apparently I was reading two years before the cat in the hat printed the fateful words "A White House intern carried on a sexual affair with the President of the United States!"
In time, my URL folder grew cumbersome; on the day I euthanized it, which is to say today, it contained 958 items ranging from 2Blowhards.com (since halved, though the address hasn't changed) to Zhongwen.com (still one of the most amazing sites I know of). The folder's size made scrolling and searching slow, and in general having untethered bookmarks has become a positive hindrance in 2006. Many of the URLs in the folder were defunct or had simply outlived their usefulness. In its leaner form, as a Firefox-resident bookmark list, it contains fewer than 600 links. The move should increase my productivity, but somehow, as I culled the old cruft-encrusted herd of bookmarks, I felt awfully like I was throwing out the addresses of old girlfriends.
- 2:43 am, April 15 (link)
---
It's legal to print Bible verses in a Saskatchewan newspaper, according to a new ruling from the provincial Court of Appeal... but is this a victory for free speech? I'll be discussing the question early next week in a newspaper near you: watch this space. -2:54 pm, April 14
---
QUIT BUYING OIL!!!!!!!! Tim Blair unearths the very stupidest person in Alberta. -2:50 pm, April 14
---
The Ottawa Rough Riders of beverages?
Don't get me wrong--I'm thrilled that colourful businessman Frank D'Angelo wants to save the CFL's Ottawa Renegades. It's up to the football fans of Ottawa whether they want to place their trust in a man who claims to be able to turn "crap into gold." But it might be worth noting that D'Angelo's Steelback brewery is best known internationally amongst hop-snobs for making some of the world's worst beer.
At RateBeer.com, Steelback's Tango and Silver beers rank as two of the least potable--you're supposedly better off with Sleeman's "Bull Max" malt liquor and Busch's alcohol-free O'Doul's. Until recently (if memory serves) the lime-flavoured Tango was at the very bottom of the worldwide league table, but it's recently been getting a bit of a bump from RateBeer reviewers who sought out "the almighty king of bad beers" deliberately and were pleasantly surprised when it didn't kill them on the spot.
Better than tequiza! Dont get me wrong it sucks but not as bad as people would make you believe. I think my bottle has gone good.
Thin flavor with a soapy lemon note. Watery as hell in the mouth. Definately not a very good beer, but close to many of the bad German radlers and not a top 10 worst beers imo.
In general, Silver is considered Tango's less aggressively awful cousin, and it even has its devotees.
This has to be the WORST Ontario beer on the market, followed closely on its heels by the rest of the Steelback family. What were they thinking? Plastic bottle? Screw cap? Premium?? No way!
Holy crap.. this stuff starts out just fine but dont let it start to get warm or itíll taste awful. Definetly something to consider.
- 2:39 pm, April 14 (link)
---
From the world press, 4/14/06

Civil war in Chad: the BBC's Andrew Manley gets you up to speed in 900 words
A "triple trap" lies ahead for Zimbabwe's ruling ZANU-PF party, says a former official
...meanwhile, Zim buries Air Vice Marshal Ian Harvey, the last white officer in its armed forces
A Turk is convicted in Germany of his sister's "honour killing"... and Muslim youths protest the suppression of "foreign customs"
NFL star Hines Ward visits his mother's native Korea--but will the effect of his celebrity change attitudes toward mixed-race children?
"In Kenya, omena are more important than human beings": how a poorly-planned regulatory crackdown is hurting sellers of a protein-rich food in a land of famine
Communism? What communism? Chavez nationalizes Total and ENI holdings in Venezuela
White lightning power: Brazil hopes you'll be soon be trading in that Prius for its "trybrid" Obvio
Under fire for insensitivity, Holland's immigration ministry halts deportations of gay and Christian Iranians
Squabbling over Gehenna: the CSM watches as Fatah and Hamas race to fill the power vacuum left by Israel in Gaza
Don't they know there's a war on? Germany's Cold War tradition of Easter peace marches is dying
In the IHT, Floyd Abrams talks about the flagging effort to bring the Khmer Rouge leadership to justice
A perennial paschal favourite: Filipino Catholics submit to real Good Friday crucifixions
Bangladesh and India suffer a DMZ scare on the northern border
Spain remembers the abortive Second Republic on its 75th anniversary
Bonus hockey note: Lugano wins the Swiss Series A title
(þ: Marc Webster, David Crawford)
- 7:21 am, April 14 (link)
---
How to spot
a second-rate sports town
You only have to watch for and identify the typifying cycle of behaviour. Let's imagine a city where a long-pathetic team--let's call them the Lames--enjoys a measure of unexpected success in the NHL playoffs. Stage one is the ugly overreaction: shiny silver objects like the Clarence Campbell Bowl are confused with the Stanley Cup as euphoric bandwagon-jumpers and whores-in-training revel nightly in a lake of urine and vomit. Stage two follows upon the inevitable defeat after the Lames meet their confounding destiny, lose to a joke franchise from the torrid zone, and are found asphyxiated in the gutter like a mob pigeon. It's the denial phase: what looks like an ignominious implosion to fans in 29 NHL cities is remembered delusionally in the 30th as a glorious victory.
Stage three, a natural consequence of stage one, arrives at the outset of the playoffs in the next season. It begins when the city's affluent burghers and shopkeepers--who look kindly on their own productivity-destroying festival of drunken chaos when it goes by the name of "the Stampede"--suddenly become terrified of a display of proletarian aggression and instruct the police to impose overt fascism to secure the polis from the degenerate twin influences of unedited yelling and pound-foolish rhinoplasty. (One sympathizes somewhat: authoritarianism usually arises in places that, to some degree, invite it.) The message to the team is unequivocal: a second successful playoff year by the Lames will be regarded with active hostility by the wealthy and powerful. Only the most naive fan can fail to perceive the eventual endgame--a quiet, uncontested exit in the second round or thereabouts. Some cities breed champions, some don't.
- 7:35 pm, April 13 (link)
---
From the world press, 4/13/06

Twin RFE/RL stories from Central Asian monstrocracies: A Turkmen dissident comes home from psychiatric torture, but the ordeal is just beginning for Uzbekistan's opposition leader
God save the Queen: Buck House's 80 facts for the Sovereign's 80th birthday
And another Royal--Spiegel profiles la Ségo, France's president-in-waiting
"Not political"? Gazprom's treatment of Belarus suggests that the Russo-Ukrainian gas crisis was a misunderstanding
"At the end of every populist experiment, real wages are lower": The Economist diagnoses Latin America
A few vignettes from the surreal Lukashenko inauguration in Belarus
After Irving: A retired Austrian army officer and Bundesrat member will plead "personal insecurity" at his upcoming Holocaust-denial trial

- 11:41 am, April 13 (link)
---
ColbyCosh.com announces "new" "feature"

Three thoughts I've been having frequently lately:
"Jesus, there's just way too much sports on the website these days. It's actually pretty good for traffic, but for the readers who don't like sports it's kind of an unfortunate coincidence that I got into a brand-few fantasy league* just as the NHL playoff race is getting white-hot. I need to invest some energy in finding non-sporty content."
"There's no goddamn structure in my life since I lost my spot in the National Post's regular comment rotation. Without a rock-solid deadline, I'm so friggin' lazy about keeping up with the news and looking for comment ideas. I'm gonna be broke by July if I don't get my act together."
"I bet somebody could make a nice living doing a Dutton/Drudge/Spector-style aggregation of genuine international news. There are English-language newspapers nearly everywhere, and most aggregator sites don't really touch them. Surely intelligent Westerners would get interested in what's going on in China or Nigeria or Bangladesh--if somebody made it easy for them."
Not long ago I began to realize that I can implement one solution for all three of these problems. So that's what the logo at upper left is for: it gives me an excuse to do a roundup of the world English-language press four or five times a week and drop it here on the site. (A ColbyCosh.com no-prize** goes to the first overeducated person who can identify the semiotic significance of the logo.) Don't be afraid to send clippings, ideas for sources, or other suggestions. First installment follows in a couple of hours. And be sure to keep coming back for the old-school ColbyCosh.com content, which will continue to flow as before.
*[Guess who tied for the overall lead in his first-ever week of fantasy baseball? Can I get a Ric Flair-style WOOO?]
**Reader Bob Drake takes the brass ring, needing just 84 minutes to identify a stylized "T-and-O" medieval world map.
- 10:35 am, April 13 (link)
---
Adventures in innumeracy: As "Sacamano" points out at BoA today, the Edmonton Sun printed contradictory statements about the Western Conference playoff math this morning--and both columnists got it wrong. Wow. -9:40 am, April 13
---
Hands in my pocket, hands in my pocket
MC79hockey.com offers a chillingly realistic vision of the Edmonton Oilers' near future: like pretty much everybody else who has actually had to sit through their stretch drive, he has the Oilers missing the playoffs, whereupon
[CEO] Cal Nichols will immediately announce that the reason the Oilers had such a poor record at home this year was because their rink is one of the oldest in the NHL and its magic ability to stop the road team from winning is waning. He'll follow it up by stating that the Oilers need a new rink in order to have a level playing field and a chance at competing. Eighty percent of Albertans, the most sensible people in the country except when it comes to their NHL teams, will immediately agree with this point.
Team management has already started muttering about building a new home for the Oilers within ten years (the Coliseum just having reached the age of 25, which qualifies it for geriatric status in the brave new world of stadium architecture). I suggest the provincial government make the inevitable lending arrangements now--but it should stipulate that the date of issue for the bonds will be exactly 24 hours after the Oilers win their next Stanley Cup. What would be the point in building a showcase for the Western Conference's annual 8th-place finisher? What are we going to call it, Mediocrity Plaza? The Ty Conklin's Career Memorial Centre? No, wait--how about the Edmonton Cronium?
- 7:23 am, April 13 (link)
---

Here's my National Post column from last week. The mail, perhaps surprisingly, ran about two-to-one in favour of this piece.

Despite temptations to the contrary, we must be thankful that our compatriots James Loney and Harmeet Singh Sooden have been rescued from terrorist captivity in Iraq and returned safely to civilization. Loney and Sooden, members of the pacifist Christian Peacemaker Teams, were waylaid in November while en route to a visit with Sunni cleric and warlord Harith al-Dari. Whether or not God was implicated in their rescue, we know that the boots on the ground belonged to a coalition task force led by British special forces. The military mission was a bloodless success despite the prissy refusal of the CPT organization to assist with it.

Loney and Sooden were kidnapped along with Briton Norman Kember, who also went home alive, and American Tom Fox, who was shot dead and dumped near a railway. The freed Canadians and their organization forgot to include thanks to their liberators in their initial public statements, but when the British officer at the head of the operation harrumphed, they hastened to acknowledge the role of the military. However, Sooden and other CPTers followed up this thanks by publicizing suspicions that some allied government had paid a ransom for them. In effect, they were denying that any risk had been taken on their behalf.

The Christian Peacemakers have been denounced for their apparent ingratitude, and for venturing into danger while relying on the world's most powerful armies to insure their safety. One might say they were vexatiously "getting in the way" of soldiers trying to help Iraq rebuild a civil society on a foundation of law-bound force. They won't deny it: "Getting in the way" is the CPT's motto. Its activities aren't restricted to the Middle East, where it is often engaged in Svend Robinson-style obstruction and haranguing of the Israeli army. It sometimes conducts "inspections" of American stores that sell war-themed toys, and in the U.S. southwest it boasts of vandalizing Homeland Security border barriers and building aid stations in the desert for Mexicans sneaking across the frontier.

It is convenient that a conspiracy theory about a ransom payment should appear just in time to explain away the military rescue of three men who despise the military. (Hey, nonviolence works--just keep up those Danegeld premiums.) But the underlying contradiction remains. CPT spokesman Peggy Gish acknowledged Friday that it is now "important for CPT to make decisions about the Iraq team's future." Why, one wonders, should "decisions" suddenly be afoot just because a team member was slaughtered? The Peacemakers put on a great show when confronting armed authorities trained in respect for life. We shall see how their confidence in nonviolent confrontation survives contact with a more bloody-minded worldview.

To call the Peacemakers "moral imbeciles," as a Sun columnist did on Sunday, seems unkind to imbeciles. The most insensible schoolyard dullard knows without any conscious consideration of ethics that negotiation doesn't work on bullies. No mere fool would come across a convenience-store robbery, stand in front of the cash register, and plead for a "fair and just" resolution of the "issues" between thief and property owner. And no ordinary simpleton would dare carry pacifism to the extreme implored by that 20th-century idol of nonviolence, Mohandas K. Gandhi, who advised German Jews in 1938 that they should submit voluntarily to torture and death on the promise that it would "bringÖ inner strength and joy."

The CPT, of course, doesn't dispense "peace" even-handedly; it devotes great attention to Jewish soldiers and very little to Palestinian suicide bombers. But it doesn't matter whether you regard Iraqi insurgents as "freedom fighters", the coalition forces as angels of democracy, or both sides as mutually despicable. By nature, pacifism serves the interest of the cruelest and most consistent advocates of violence on all sides. Its core notion of "peace" as an end in itself--an end superior to the claims of liberty, order, and simple self-defence--is an advanced abstraction that only someone intelligent, and even perversely noble, would follow to the grave or the dungeon.

It is no coincidence that the Christian Peacemakers are drawn largely from the most anti-hierarchical and hard-headed Protestant sects--Mennonites, Quakers, left-wing Baptists and Presbyterians. The theory and practice of pacifism almost requires a profound religious imagination, because it gives no thought to material welfare where cosmic justice is at stake; it requires the believer to envision and pursue a New Jerusalem where no dispute is ever solved by force; and it scorns the worldly human desire for property and safety, insisting solely upon God's will. Its advocates, though they forswear guns and bombs, can be counted among the truest modern fanatics. (April 4, 2006)

- 5:44 am, April 13 (link)
---
Funny 'cause it's true: Saskabush.com isn't updated very often, but it might still be the funniest Canadian humour site out there. -4:14 pm, April 12
---
In 1978, Joe Faragalli, then an assistant coach for the Edmonton Eskimos, suffered a heart attack on the sideline during a game. Doctors warned him that returning to the profession would jeopardize his health. Too bad, he said: life wasn't much use to him if he couldn't coach football. Pops stayed in the game until 1990, leading the Eskimos to victory in the 1987 Grey Cup. It looks like the doctors were right after all, give or take 28 years. (Trust me, he'd enjoy the joke.) -5:46 pm, April 10
---
Thousand-yard stare
Does it strike you that Gator and Smytty look a little guilty in this (rather startling) bus advertisement? So they should. Until this month I never understood fans who have claimed to become so frustrated with their own team that they began cheering against it. It seemed like an alien utterance, a moral monstrosity for any true fan. But the 2005-06 Edmonton Oilers have enlightened me. This weekend they walked into the Savvis Center with an open door to the playoffs; all they had to do was to defeat the worst team in their conference. Which had played the previous night. And which had set a franchise record for consecutive losses (13) earlier in the month. And which was starting its backup goalie, the immortal Jason Bacashihua.

The scoresheet in the consequent 2-1 loss was much too kind. The Oilers may back into the playoffs, but for the first time in my life a large part of me wants them to fail. And I don't think there can be much doubt whence the finger of blame points. Kevin Lowe's acquisitions are doing about what was expected of them, and there are few if any players (I'll give you Radek Dvorak) who are letting down the side with especial egregiousness. This is simply a failure of motivation, more usually described in other cities as "the coach losing the team."

- 1:21 pm, April 10 (link)
---
Euwe's opdracht: Tim Krabbe presents an amusing "athletic" anecdote about a world champion. (No permalinks--scroll down to number 312 if new content has been added.) -10:28 am, April 9
---
A new low
It has been almost a year since I wrote my "Fuck off already, Jack Nicklaus" column for the Western Standard. A brief excerpt:
Nicklaus, 65, has spent the last quarter-century being frenched by sportswriters as he "left the game" in super-slow motion. When he started to reduce his competitive schedule in the early '80s, the hacks were already moaning about the end of an era. Then, at 46, he unexpectedly won the Masters, giving every pathetic Baby Boomer with a spare tire and a golf addiction dreams of defying Father Time. Ever since, Nicklaus has been the story whenever he was within ten strokes of the lead. By the late '90s, the phenomenon grew positively embarrassing, as writers jittered like children again and again over whether he'd even make the cut. Meanwhile, Nicklaus added fuel to the fire by griping about his back and his play. As early as 1992--Sports Illustrated's Gary Van Sickle wrote about this on Open weekend--he was telling sportswriters "This is probably my last British Open." He's had more farewell tours than The Who.
Guess who appeared Thursday for a "curtain call" at the Augusta National, edging active golfers out of the pre-Masters spotlight yet again? I can't fault Nicklaus in this case--as golf's patriarch, he obviously belongs at its annual family reunion. But does CNN really have to carve distinct space in the news budget for a 66-year-old man who ends up three shots back in a friendly par-three tournament?
- 4:09 am, April 6 (link)
---

I have a column in today's National Post about the Christian Peacemaker Teams and their controversial involvement in Iraq. (Short version: you don't have to carry a gun to be a radical religious extremist.)

While you're flipping through the Issues & Ideas section, don't miss Danny Gallagher and Bill Young's remarkable piece about Rick Monday, who still hasn't been forgiven by the city of Montreal 25 years after his 9th-inning homer in the NL championship game.
Though hundreds of people have asked him about that pitch, [Steve] Rogers isn't haunted by the memory. He holds his head high, and rightly so.
"That pitch was not my career," Rogers says. "If I don't pitch well in any of my last four games prior to that, we're not there in the league final anyway. The second-to-last game of the season against the Mets, I threw the two-hitter that clinched the tie for the NL East. Then there were those two games I won against Steve Carlton in the mini-series against Philadelphia, and [the] third game of the Dodgers' series that I won 4-1. Those games were some of the highlights of my career."
But Rogers admits, "I was overthrowing the ball that day. I had too much adrenaline, which is what a short reliever has to deal with ... I overthrew the fastball against Monday. I was so pumped up."
Thanks to Retrosheet, you can view the boxscores and play-by-play of Rogers' forgotten twin victories over Lefty.

- 5:18 am, April 4 (link)
---
Thug life: Real TV comes to "the wilds of Canada" in this embedded media clip. Did you know Calgary and Edmonton were "a couple of towns where a bunch of two-fisted guys like to step out on the weekends"? -4:06 am, April 4
---
That billion-dollar business model, cont'd.
Maybe it's time for someone to consider buying the domain mlbtvsucks.com. I was only scratching the surface the other day when I mentioned a couple of past problems with MLB multimedia. Last season I made the mistake of ordering MLB.TV for the last month of the pennant race; I had to go through a tedious customer-service process over the phone in order to use my Canadian credit card, my browser preference (Firefox) seemed to create endless problems, and even when I switched back to IE the software was subject to constant flakiness apparently involving cookies and/or adware. I missed at least a quarter of the games I'd paid for, and by the time I had developed a laborious system for making the damn thing work (FOR GOD'S SAKE DO NOT LOG IN TWICE SIMULTANEOUSLY BY ACCIDENT), the playoffs came along--and guess what: every game was blacked out, all throughout Canada. As much as I wanted to give Major League Baseball my money, they simply would not take it. By the Championship Series, MLB.com's bad behaviour had actually made me hate baseball as a sport.
Springtime always renews one's faith in the game, if not its managers, so for this season I'm going to stick to the Gameday Audio broadcasts; I trust MLB.com, just about, to supply a dialup-speed audio feed without too much grief, and I can always grab free highlights at the end of the day if Torii Hunter perpetrates an obvious Web Gem. I'm probably being much too charitable, but it's only $15. Here's how reader Lars Ormberg is faring with the new (and supposedly Firefox-friendly) MLB.TV video app as the season begins:
I subscribed to the full season last year, and this year decided that since the exchange rate is better than a year ago, it's only a few extra dollars to get MLB All Access [which includes the radio broadcasts and archived games] instead. And since I don't have cable TV, it works good all around.

Well, except that negative option billing is half of what cost MLB.tv extra money from me.

When I discovered I was already getting MLB.tv, I emailed MLB.com to ask how I could upgrade to All Access... whether I had to de-subscribe to MLB.tv and subscribe to All Access, or they could just tack on the extra charge. They never replied to the five emails I sent them on the subject. Their 1-866 number didn't work from my cell phone (presumably throughout Canada), and after three weeks of trying I gave up. So they actually cost themselves some business with all of this.

I'm not impressed with MLB.tv this year: rather than allow you to use the RealPlayer, they use a Flash-powered plugin bringing up a proprietary player... which proceeds to show you the final score when watching an archived game. Why the hell would they do this?

The same MLB TV player has crashed my computer once already over a two-game period, and the lack of RealPlayer means I can't pause the game at a commercial break and have the 30-40 seconds of built-up lag "shoot ahead", letting me effectively skip the commercials. I also can't replay a scene as I could with Realplayer's TIVO-like powers, and for the Season Opener last night for some reason the radio audio was tacked onto the ESPN TV feed.

Finally, rather than showing commercials, the screen is blue-ed out to just show a "you're watching MLB.tv" logo... not only do I miss catching the Yankee commercials and previews, but sometimes the game resumes before they take the screen down... and there's no sound [when the blank screen is up], so you don't even hear what you didn't see.
- 1:25 am, April 4 (link)
---
Axis of Evil or Fireworks Enthusiast Society?
If you're like me, you were a little curious about Iran's claim to have developed the fastest known torpedo. The U.S. Department of Defence urges skepticism but admits it's possible that Iran has come up with a new wrinkle. The caveat is that mere speed hardly makes for a category-killing application in the realm of underwater weaponry. As I understand it, the U.S. doesn't arm its navy with its own fastest torpedoes for fighting in coastal environments like the Eastern Mediterranean; they're reserved for the old job of opposing fast submarines and ships in the open sea. Russia has long deployed supercavitating torpedoes, but guidance has been described as a "problem." Those familiar with "new military technologies" boasted of in backward, prestige-conscious countries must suspect that the new Iranian weapon was reverse-engineered from Russian torpedoes, and probably not without direct or indirect assistance. (Cf. the rebranding and refinement of the Scud, whose design became the basis for the Nodong-1 in North Korea, which in turn begat Iran's Shahab-3, etc., etc., ad naus.)
- 5:22 pm, April 3 (link)
---
Erratum: Due to an editor's error, the following sentence appeared in my baseball preview yesterday: "Can you believe C.C. Sabathia is still just 25 years old?". This should have read "Can you believe C.C. Sabathia is going to leave the mound with a case of sprained fat seven outs into the season?" ColbyCosh.com regrets the error--though not as much as Matt Fenwick, who owns Sabathia in my fantasy league. -12:45 am, April 3
---
Just under the wire: as Chicago and Cleveland gird their loins for Opening Day battle, Welch comes across with predictions and, in what is becoming an essential rite of spring, his longshot picks for gamblers. -1:59 pm, April 2
---
Apparently Bud Selig's cousin coded the whole thing in exchange for a steady supply of submarine sandwiches and Dr. Pepper
The New York Times has a piece today about MLB.com, the official website of baseball's major leagues. The site has become a surprising dividend generator for the big-league clubs as MLB.com sells low-cost game video to fans and begins to handle data traffic on contract for other sports. There's even talk of a billion-dollar IPO.
Which behooves me to give an example of the outstanding user-friendliness I've come to know and love from Major League Baseball. MLB.com contains an "MLB Radio" page with round-the-clock streaming audio of talk shows, baseball news, and player interviews. Without checking, what URL do you suppose you would use to find MLB Radio?
MLBradio.com, you say? Sorry--it's in the hands of a squatter.
Perhaps radio.mlb.com? C'mon, you're not even trying.
Really, you'll kick yourself when you see the intuitive, easy-to-remember, concise answer: http://mlb.mlb.com/NASApp/mlb/mlb/radio/index.jsp. The subdomain alone--never mind the hilarious 1996-style directory forest--should warn you what particular species of genius you are dealing with.
[UPDATE, April 3: Kevin Milligan writes to observe that negative-option billing is always super-duper popular with customers, too. Right now, 2005 MLB.TV subscribers are getting e-mail telling them that they had better act fast if they don't want their credit cards to be billed for 2006. As a bonus, MLB.com also offers you a few free issues of Sports Illustrated with some multimedia packages--and passes on your credit card data to SI, who will themselves negative-option-bill you for the continuation of your subscription. The crusading New York Times apparently doesn't care much about business practices that lie somewhere on the moral spectrum between Herbalife and a mook selling speakers out of the back of a van...]
[UPDATE, April 4: The story continues.]
- 1:32 pm, April 2 (link)
---
October revolutions?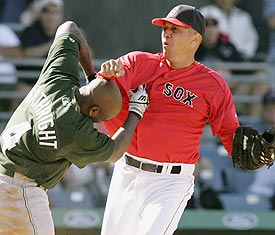 As an alternative to standing around kicking at the dirt and waiting for Matt Welch to conduct a baseball preview, I thought I'd post my MLB predictions for 2006. Because I'm in a fantasy league this year, these are now backed by a couple weeks' worth of obsessive research. Which probably won't help.
AL East
Boston
New York
Baltimore
Toronto
Tampa Bay
My pessimism about the Blue Jays is likely to offend many Canadians, but on the coldest possible analysis I cannot see how they might be ready to break into the division's top two. Their #1 starter has 40 starts over the last two years; the #2 starter has 55 in the last three, and starts the season on the injured list; the #3 got awfully lucky on balls in play and is the majors' most obvious target for Vörösian regression; and beyond that, you've got Josh Towers and Ted Lilly loitering around near .460. The outfield is a tangle of platoon arrangements, and they're not like the clever planned one in Boston that's designed to make maximum use of positive talents. The touted middle infielders are awfully old to be considered true prospects. Bengie Molina and Troy Glaus are time bombs. Is it just me? You really see this bunch taking down the Yankees?
Not that Yankees won't be takeable, mind you, with their tattered rotation, aging nucleus, paranoid right fielder, and void of a bench. I could have sworn I saw them give Bernie Williams a Viking funeral last season, but it looks like he'll get 300+ ABs at DH, and they've got Robbie Cano dripping hot lard all over second base. If the Mazzone Effect is large enough, Baltimore could finish in second here.
Overall, this might be a God-awful division despite all the money. As Tom Tippett points out in his brand-new Diamond Mind projections (the cream of the preseason simulation crop), it's scarcely impossible for Boston to lose 90 games.
AL Central
Cleveland
Minnesota
Chicago
Detroit
Kansas City
There appears to be a strange reluctance to concede that Cleveland is ready to take over here. They led the known universe in run differential last year, were outstanding after the All-Star Break, and have some amazing talent in the 25-29 age band. (Can you believe C.C. Sabathia is still just 25 years old?) History will recognize in retrospect that the White Sox were an awfully weak champion. The average major-league team has two future Hall of Famers on it: what member of the 2005 White Sox do you see ever making the Hall of Fame? There's maybe a 20% chance that one of the starting pitchers will hang around long enough ringing up wins.
Kansas City could lose a truly brain-spraining number of games here. They were 56-106 with Runelvys Hernandez and Zack Greinke in the rotation all year; Runelvys showed up to camp like 50 pounds overweight, and Greinke, it seems, has literally gone insane.
AL West
Oakland
Golden State
Texas
Seattle
Here we have the Royals' diametric opposite: this gang could win 118. What would you say the single biggest weakness of the Oakland A's was? The bench is a manager's dream, with every conceivable component one could want in a chess game. The infield could produce four All-Stars. If he can play as many as 100 games, Frank Thomas will more than cover for the lack of pure power in the outfield. Huston Street already appears to be one of the top five or six closers in the game. The rotation is young, durable, and led by a Cy Young winner. Hey, I think we've discovered why Welch doesn't want to give us his picks.
The Angels will go down, if they go, kicking and screaming as always. They're entering a transition period during which the worsening cracks in the lineup cannot yet be cemented in with the corps of young talent. If Vladimir Guerrero gets hurt--hardly a longshot--they'll vie with the Royals for the worst-hitting outfield in the majors. Their rotation features two pitchers, Jeff Weaver and Kelvim Escobar, who are the equivalent of warm, flat ginger ale: potentially appetizing in an emergency, but not to be served up as credible in the normal course of events. I'd pick Texas to pass them, but the Rangers let me down every year and they have no pitching. And Seattle = the Royals + Ichiro + Felix, basically.
NL East
Atlanta
Philadelphia
Florida
New York
Washington
I could probably make a case for presenting these teams in the reverse order. I'm not putting Atlanta at the head just because they always win, exactly; I'm putting them there because their prospects always seem to turn out good, so it must be presumed that Francoeur, LaRoche, McCann, and Langerhans are for real and due for improvement. No one in the league can match the one-two punch of Smoltz and Hudson at the front of that rotation unless Andy Pettitte has a good year. This could actually be the best Braves team in quite some time, so why start picking against them now?
Although I don't think the Braves have a divine right to the division title, I do feel that Philadelphia is cursed in some nebulous sense. They're just good enough to contend every year, and contending makes them reluctant to tear up the roster in anger and start over. The Marlins were not afraid to destroy a contending team all at once, and the new group in Florida should have fun and coalesce rapidly, seeing as they've been left no choice. I see, or at least imagine, Jason Vargas making progress towards elite status, and that by itself should get the Fish close to .500.
The Mets... well, let's just say the Mets are starting Steve Trachsel on the mound next Friday. Washington looks vulnerable to regression from John Patterson and Chad Cordero, without whom there's not much of a pitching staff left. The Gnats put up a good fight last year, but I don't see the old-school bullshooter Frank Robinson extracting that kind of energy from a team by means of threats and embroidery-maxims twice in a row, and Soriano's presence makes matters worse.
NL Central
Houston
Milwaukee
St. Louis
Cincinnati
Chicago
Pittsburgh
I wish I could be allowed to choose nobody here. Consensus holds that the Cards will run away with the flag: I wonder if the people who say this have noticed that Juan Encarnacion had a .299 on-base percentage in 2004, or that Junior Spivey's OBP was .315 last year. Since they don't have world-shaking power either, these are anti-superstars, guys who can very quickly neutralize the impact of an Albert Pujols just by taking their turn in the order. Still, my Houston pick is predicated on Clemens coming back, because I don't see anybody exactly lighting up the universe with an outfield of Preston Wilson, Willy Taveras, and Jason Lane.
Milwaukee seems just good enough to enable ambitious and not entirely misguided pennant fantasies in Wisconsin, but Fielder and Weeks are a year from going over the top. I'm guessing this is the season that the Dunn-Kearns-Griffey outfield puts it together in Cincinnati, which will allow the Reds to pull past an imploding Dusty Baker.
NL West
Los Angeles
San Francisco
San Diego
Arizona
Colorado
With the Nomar and Furcal acquisitions, I get a vague Campbell's Soup sense of blandly assured quality from this year's Dodgers. It's just hard, to some degree, to imagine that franchise remaining in a total funk for too long. I think you have to prefer the team that followed a plan in the off-season; the Giants, by contrast, are just hanging around watching to see what Bonds does. San Diego has a weak rotation and lots of spare parts that just don't seem to fit together: you have to like Vinny Castilla or Mike Cameron or Ryan Klesko as individual ballplayers, but in this setting they seem thrown together like the cast of Lost, not to mention primed for a net decline as a group.
As an old fart in training who disapproves of all expansion clubs, I still sometimes have trouble telling Arizona and Colorado apart.* Which Gonzalez goes with which team again? Having checked, I know that Arizona is the one with (a) some credible young talent and (b) a rotation that can actually give you some trouble on days three and four. Plus, the Rockies are the ones with Byung-Hyun Kim.
*Also, I don't care what anyone says: the Brewers are an American League team, goddammit.
- 4:07 am, April 1 (link)
---
Appeal for informed readers yields fastest results ever!
Just slightly below, I ask why the awkward phrase "a mix of sun and cloud" has become so ubiquitous in Canadian weather forecasts. It took about two hours to get this answer from Ian Leonard, a familiar face from Alberta broadcasting who is now chief meteorologist of the NBC affiliate in Waterloo, Iowa.
[The phrase] was introduced by Environment Canada about five or six years ago. Cutbacks forced the meteorologists to do more benign work and spend less time on day-to-day forecasting. This lead to the start of a mainly computerized forecast for most of the country on a daily basis (except the major cities). The text output from computer-based forecast models took over 90% of the daily forecast duties across the country from human meteorologists. In essence, the phrase you refer to stops the computer generated forecast from what we call "busting out"... in other words it hedges the odds that the forecast will be conceived as "right." The government mucky-mucks will tell you that it was intended to make the forecast easier to understand, but letís face it, you can be right almost every day by forecasting "a mix of sun and cloud."
I knew it! "A mix of sun and cloud" is a snow job! Thanks to Mr. Leonard for meeting the exact specifications of "informed reader."

- 2:08 am, April 1 (link)
---
Bonus logo note: while researching Matt Cain, fourth starter for my fantasy team, I discovered the PCL Fresno Grizzlies' unsettling headgear innovation--a off-centre cap emblem. Introduced in 2005, the Grizzlies' right-justified road cap is the first in professional baseball not to be centered on the player's forehead. -12:51 am, April 1
---