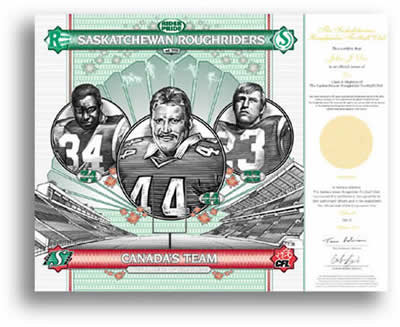 Profiled by Roy MacGregor in Monday's Globe: the Macklin branch of the Cosh family, whose Saskatchewan Roughrider fandom has made them "as well known as some of the players."
They drive five hours each way from their town near the Alberta border to attend every Roughriders home game. They have season's tickets for six—Robin and Lori and their four children, 12-year-old Taylor, nine-year-old Keifer, Laine and six-year-old Connor—and treat becoming an "owner" the way other families regard First Communion or bar and bat mitzvahs.

Sunday afternoon was the day Laine came to pick up her share—an official document declaring her one more owner of this community-owned team.

Her parents have their shares, her big sister and brother have theirs —leaving only the youngest, Connor, to sulk and dream of the day he, too, becomes a CFL owner.
Normally I'd be pretty taken aback if a Globe columnist called my relatives "eccentric" in print, but let's face it, he's being polite: raising your kids as Rider fans is arguably a form of child abuse. MacGregor writes of my uncle and aunt that "The $1,400 they spend a year on regular season's tickets, they believe, is the best bargain available in pro sports." Well, sure, it's a heck of a deal when they're 11-5, but if history is any guide, Connor is gonna be drawing a pension cheque on the Moon the next time that happens.