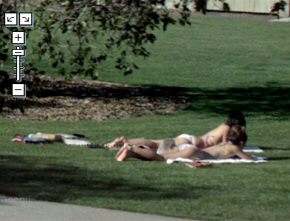 The federal privacy commissioner writes to Immersive Media, the company that takes photos for Google's new mapping and traffic application, Street View:
The Personal Information Protection and Electronic Documents (PIPEDA) Act is Canada's private sector privacy law, which came fully into effect on January 1, 2004. Pursuant to PIPEDA, businesses that wish to collect, use or disclose personal information about people generally require individuals' consent, and they may only use or disclose that information for the purpose for which individuals gave consent. Even with consent, businesses are required to limit the collection, use and disclosure of personal information to purposes that a reasonable person would consider appropriate under the circumstances. Finally, individuals have a right to see the personal information that businesses hold about them, and to correct any inaccuracies.

...Our Office considers images of individuals that are sufficiently clear to allow an individual to be identified to be personal information within the meaning of PIPEDA. The images contained in your GeoImmersive Database appear to have been captured largely without the consent and knowledge of the individuals who appear in the images. Your company is now making the images commercially available, presumably to anyone who wishes to enter into a licensing agreement. This would appear to run counter to the basic requirements of knowledge, consent, and limited collection, use and disclosure as set out in PIPEDA.
Thank goodness our federal officials are there to protect us from companies that might spend millions of dollars developing cool and useful free services for us. But doesn't this interpretation of PIPEDA appear to outlaw ordinary freelance photography in public places? Scrutiny of the statute reveals the loophole; the privacy provisions don't apply to
any organization in respect of personal information that the organization collects, uses or discloses for journalistic, artistic or literary purposes and does not collect, use or disclose for any other purpose.
So what's the most credible definition of Street View that Google and Immersive Media can provide when they write back in defence of their right to take pictures from a moving car? Should they argue that it's a journalistic enterprise? Or a work of art?